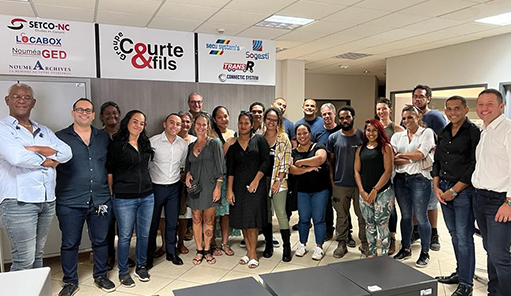 On 18 May, the MOBILITAS Group had the pleasure of finalising discussions with another family business, Courte & Fils, for the acquisition of Nouméa Archives and Nouméa GED.
The deal follows negotiations that were conducted by both parties in a spirit of mutual trust and good will. MOBILITAS will strive to perpetuate the culture put in place by the Courte family over the years to continue the success of the two businesses.
"We are delighted to welcome the Nouméa Archives and GED teams into our big family," emphasises Samuel Mergui, MOBILITAS Group Director. "This new acquisition expands our network in the Pacific region. Customers of these companies can now benefit from the complete MOBILITAS records management service offering, including the digital solutions."
"It is with a slight twinge of regret, but with great satisfaction and confidence that we hand over our activities to the MOBILITAS Group," emphasises Bertrand Courte, General Manager of the Courte & Fils Group. "We are confident about the future of Nouméa Archives and Nouméa GED under the MOBILITAS umbrella."
Through its AGS Records management brand, the group provides expertise across the entire document lifecycle: auditing and consulting, physical records management, digitisation solutions, digital and heritage solutions.
This announcement marks the beginning of MOBILITAS's expansion in Noumea. The group has also recently acquired a 6 000m2 plot on which it plans a build a new conservation centre and digitisation workshop in the next 18 months.
These developments, which are in line with MOBILITAS's strategy of meeting customers' needs through proximity and service excellence, once again confirm the group's confidence in the future of New Caledonia.