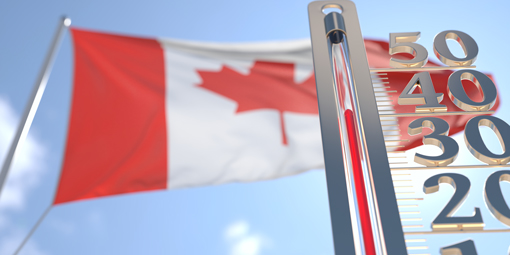 Comprising high mountains, open prairies, boreal forests and arctic tundra, the diversity of the Canadian landscape is no coincidence. As the second largest country in the world, Canada's many regions are shaped by dramatically contrasting weather conditions.
It is impossible to settle in Canada without considering how the four seasons will impact your daily life.
The season of greatest concern
We have all seen the images of Canadians bundled up like mountain men as they brave the icy outdoors. And indeed, winters are very cold in most regions, with temperatures well below zero.
The first snow appears around December and blankets the ground until March or April. The only exception is in southwestern British Columbia, towards Victoria and Vancouver, where rain is more common.
But while winters are cold, they do not have to be grey. In Montreal, for example, the season is often accompanied by bright sunshine. And unlike Europe, the cold is dry and relatively easy to bear with the right gear, according to Quebecers.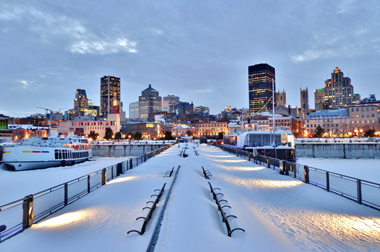 How to equip yourself against the cold
Depending on your country of origin, you may be shocked by how far the mercury drops in Canada. Equip yourself with suitable clothes and shearling boots well in advance, and don't forget to bring a hat, gloves, and a real down winter coat, which is the best way to preserve body heat. It's also common for Canadians to carry several pairs of shoes and change into the appropriate pair when they go outside or get to the office.
Environment Canada, the equivalent of Météo France, has recorded record-breaking low temperatures in certain regions. Yellowknife, in the Northwest Territories, was voted the coldest city in Canada, with an average temperature of -28.9°C. Not surprising when it also has the most extreme wind chill factor in the country. But the coldest temperature recorded in a century remains -62.8°C. That was on February 3, 1947, in Snag, Yukon. In Quebec, Val-d'Or has a hundred more snow days than any other Canadian city.
Enjoying winter anyway
Of course, there are those who love winter more than any other season. The Ice Hotel, just a few minutes from Quebec City, is the only hotel in North America built entirely of snow and ice and, each year, thousands of visitors reserve a room for a night or two.
Most Canadians live in southern Ontario and Quebec, southwestern British Columbia and Alberta. The northern regions are less populated, mainly because of the cold climate. Despite these extreme temperatures, the annual festivals, such as Montreal's Nuit Blanche, the Igloofest (the coldest music festival in the world) and light therapy activities are very popular. And the good news is Canadians are just as friendly in the cold!
Increasingly hot summers
On the other hand, summers in Canada can be hot. From June to around September, temperatures range between 20 and 30°C or higher, depending on the region.
Calgary is the Canada's sunniest city. Boasting 333 days of sunshine per year, the metropolis is one of the most pleasant in which to live, while summers in southern Ontario and Quebec can be humid.
Just as elsewhere, climate change is transforming the Canadian climate. In the summer of 2021, some 60 regions in British Columbia and Alberta experienced record-breaking temperatures following a heatwave that affected the entire western part of the country.
The autumnal tones of the Indian summer
Spring is often synonymous with rain in Canada, at least until April. Even if the temperatures are much milder than in winter, the nights are still cool. The weather can be unpredictable and many Canadian parks stay closed until mid-May, partly because of residual snow or mud.
Autumn, also known as Indian summer, offers a brief period of warmth before winter. In south-eastern Canada especially, it's a time for deciduous trees to reveal their rich, jewel-like colours.
Good read: Canada Fast Facts
Do you need advice on your move to Canada? Contact Sophie Lucas, Managing Director of AGS France: sophie.lucas@agsfrance.com