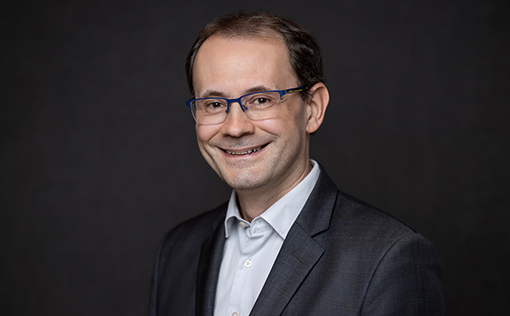 How did you become part of the MOBILITAS Group?
In my third year at EDHEC business school, I had no intention of delving into the international removals and expatriate market. However, an internship opportunity turned my career around. In 1998, I applied for a position at AGS, who were looking for an intern to develop their branches in Senegal, Mozambique, and Egypt. The position was everything I was looking for: I could
validate my year's work, do my national service in a company (CSNE, now VIE) and discover Africa.

What were your assignments?
Under the guidance of Paul Massardier (today the Vice President of the Group and of the Africa Committee of the French Foreign Trade Advisors), I worked on creating new branches, while assisting with administrative matters and customer issues. Soon after, Alain Taïeb appointed me on a sensitive project in Nigeria. That is an advantage of working in a family-run SME. As an intern, you work in direct contact with the founders and are entrusted with responsibilities on a wide range of important projects. After six months at the AGS head office, I defended my master's thesis, graduated and moved to Rabat as a sales representative for the local AGS branch. I was responsible for the development of the embassies-and-international-organisations market. After taking on the role of intern manager, I joined Paul Massardier at the AGS head office in France as second in command, with the aim of developing branches in Eastern Europe.
But your career with AGS didn't end there…
Far from it. In 2000, a new challenge awaited me: AGS's acquisition of the Laser Transport Group, the biggest operator in South Africa (a country I had dreamed of discovering since I started studying). This first large-scale international buyout required AGS to be present in South Africa for the duration of the transition. Alain Taïeb entrusted me with this mission, and I became AGS's first expatriate manager in South Africa. On site, I had to audit several branches, set up an operational procedure for cross-border air removals via South Africa, and develop the production of packaging materials, while starting to integrate the Laser group into AGS. Once the takeover was complete, Alain Taïeb invited me to become Operations Manager for East and Southern Africa, a position I fulfilled for two and a half years before returning to France in 2004.
How did you become head of Executive Relocations?
In 2007, after working as Operations Director for the whole of Africa and, for two months, on the Group's real estate projects, I was appointed head of Executive Relocations. I left international removals for relocation. This challenge still motivates me today, 16 years later. In this position, I built a team, raised the visibility of the business and secured major contracts, like Orange in 2011.  For over 10 years, we have managed the mobility of 550 Orange employees worldwide thanks to our comprehensive service offering.
When you applied for this internship at the end of business school, did you think you'd still be with the group 25 years later?
Absolutely not! Like my fellow students at EDHEC, I thought I would take two years to put into practice the theory learned on the school benches and then move on to another company. But through all these assignments I was introduced to some fascinating and genuine people who brought me to where I am now. Today's VIE programme is similar to what I experienced, and I recommend it for everyone because it allows you to learn, prove and discover yourself.
How do you explain your long association with the group?
MOBILITAS is a family-run business, counting on dedicated and multi-talented employees. The internship at the start of my career gave me the chance to prove myself before being given the freedom to develop various group projects. At Executive Relocations, we had to bounce back from Covid and face the current reshaping of the relocation market. We always find the resources, and we have some exciting challenges ahead. Mobilitas continues to recruit VIEs and has made it one of the components of their international DNA. I encourage young graduates to embrace this career path, and for French SMEs to participate en masse office in France as second in command, with the aim of developing branches in Eastern Europe.