When we talk about the largest city in the world, it is important to be specific: the largest by surface area or the largest by number of inhabitants? While Eeyou Istchee James Bay (Canada) seems to be the winner in terms of surface area, covering no less than 335,818 km2, Tokyo wins in terms of population.
With 42 million inhabitants, Japan's capital city beats out Delhi in India and Shanghai in China. Tokyo broke the world record for the most populous city way back in 2006 with 35.53 million inhabitants, twice as many as New York. "Moving to Tokyo gives expatriates access to a broad cultural, social and geographical diversity," says Clément Fagon, Director of AGS Movers Asia. "The atmosphere changes from one district to another, which is what makes living in Tokyo a unique experience."
Tokyo City has a population of "only" 13.5 million. However, it has sprouted several surrounding cities which have merged into a gigantic urban sprawl that forms one 7,000 km2 metropolitan area, home to a quarter of Japan's population.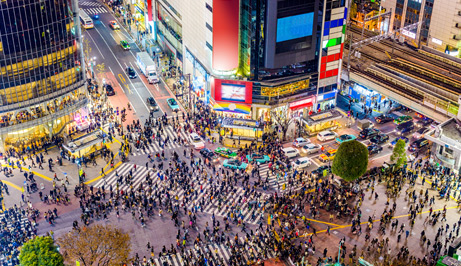 The total population of the Empire of the Rising Sun is estimated at 125.507 million inhabitants (2021) who are spread over approximately 378,000 km2 or roughly 7,000 islands. The main islands are Hokkaido, Honshu, Shikoku, Okinawa, and Kyushu.
According to a 2014 study by the Global Cities Institute, Tokyo's population is expected to decrease over time due to the country's ageing population. Mumbai will be the world's largest city by 2050.
If you have any questions, AGS Movers Japan is here to help.