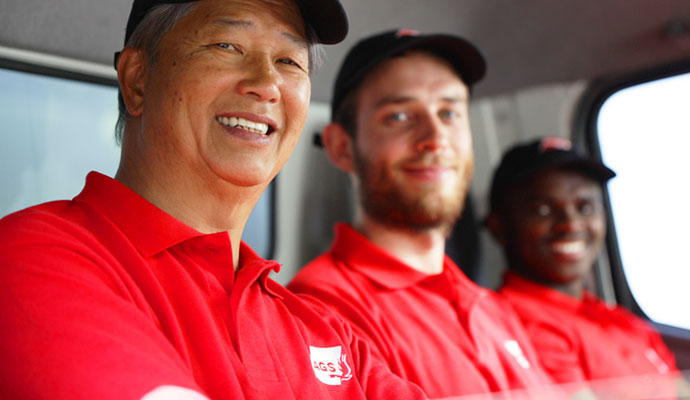 After Thailand, Vietnam, Cambodia and Myanmar, Mobilitas is preparing to launch its development project in Laos under its iconic AGS brand.
One of the global leaders in removals, relocation and records management, Mobilitas continues to develop its network to give its clients all the expertise, the backing and the logistical support they need to achieve their goals.
With the upcoming opening of AGS Laos, the group is currently buzzing.
By covering the entire Indochinese peninsula, AGS will offer unmatched proximity services in its three main lines of business. But let's first have a look back on the group's history in Asia.
2005: Mobilitas' first steps in Asia
External growth has always played a key role in the group's development and success. The reason for this success lies in its approach: each of the Mobilitas Group's expansions is an occasion to not only strengthen its network and diversify, but also and most importantly to add talent, competencies and know-how to its existing teams. Mobilitas applies the same strategies to purchased companies, the same will to have those companies' employees grow and the same search for excellence as the one that's been driving the group for almost half a century.
In Asia, it all started in 2005 with the buyout of the Four Winds Group in China, Hong-Kong, Singapore, Bangkok, Taipei and then Trinity in India. That was the birth of AGS Four Winds, combining expertise, performance and reputation. Mobilitas thus launched its network in Asia and opened its own branches in Beijing and Shanghai.
AGS Four Winds' excellent quality of service was quickly recognized. The teams were solicited for their dedication, their efficiency and professionalism during a move's execution. Their motto: "to listen to the client and to always be ready to go over and beyond their expectations".
An Asian network that is gaining maturity
The Mobilitas network is made up of 24 branches and the upcoming opening of a branch in Laos will complete this exceptional network meshing in South-East Asia. This will allow the group to work throughout the Indochina peninsula.
Close to Vientiane, a stone's throw from the airport, this location will have a large state-of-the art storage warehouse and meet the strictest international safety standards. A second warehouse will be dedicated to records storage and will have a space dedicated to the digitization of documents.
Mobilitas has just taken delivery of the building site which was completed in accordance with regulations.
Now that structural work is finished, the group is preparing to work on the layout of this new infrastructure.
Salespeople, logisticians, movers, archivists, handlers, secretaries and a leading team will be recruited and trained in the AGS quality standards. The opening is planned for 2019.
Success after success, the Mobilitas Group's Asian network is diversifying its capabilities and never stops progressing in terms of market share and notoriety. It continues to develop its office moves, art work moves and records management services and will soon inaugurate new premises designed to host records management activities in Cambodia and Myanmar.
Today, Mobilitas has 226 locations throughout the world. With a physical presence in Europe, Asia, the Caribbean, the Middle-East and in the 54 African countries, the group supplies its clients with unequaled services and with the same unrivaled quality standards throughout its global network. As a Pioneer and visionary, Mobilitas will still complete many growth and development projects in order to continue with the diversification of its services and to complete its offer.