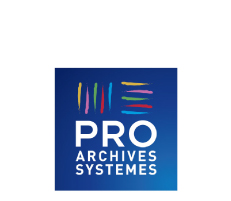 Electronic records management is not to be confused with an IT management solution, nor a computer backup; it is a records management solution. Indeed, digital records management preserves the legal value of digital files, from their creation until the end of their retention period. Far from data storage or backups, electronic records management is an essential (and compulsory) operation for businesses to guarantee the security of their evidentiary document collections. As the law of 13 March 2000 says: "electronic records have the same evidentiary value as paper-based records."
Salary slips, expense reports, customer contracts, and invoices – these are documents essential to the smooth running of a business and are treated differently depending on the needs and requirements of the company in question. "We adapt the solution to the client's needs," says Philippe Rocuet, Managing Director of Pro Archives Systèmes. "The solution changes according to the type of documents. It is up to the records specialist to propose the most suitable method for the client. We have to offer innovative customer services that are more than just digitising documents, we develop a solution tailored to their needs."
In a time when corporate demand for digitisation is growing, Pro Archives Systèmes builds and offers three main digital solutions: a digital safe, an electronic archiving system (EAS) and electronic document management (EDM).
The safe, a container for digital files
The purpose of the digital safe, also known as a communicating digital safe, is either to store digital files and their evidentiary value or serve as a secure exchange platform. It enables all types of documents to be stored and exchanged securely. One of the digital safe's distinctive features is that any user with read access can see all stored digital files. Companies must therefore be aware that this type of solution cannot be compartmentalised.
In terms of use, digital files can be uploaded with identifying information such as a fingerprint. The safe then assesses the fingerprint on file and compares it with the one received. If differences are found, the file is rejected. Regardless of the method used, a filing certificate is generated when a digital file is accepted. This certificate can be returned to the originator.
In practice, a safe does not perform any processing on uploaded files. It is a simple container whose main purpose is to store digital files, such as payslips or medical records, for example.
An EAS for more advanced records management
An Electronic Archiving System (EAS) is a digital storage solution that ensures evidentiary value is preserved over time. Like a digital safe, it allows real-time consultation and sharing of active company documents.
An electronic archiving system differs from a safe in the operations it can perform prior to the upload of a digital file, during the file's retention period and even when it is removed. These operations include, for example, format checking, splitting into sub-units or format conversion. In addition, the digital files can be partitioned to allow a filtered view according to who is logged in.
The journey of a digital file in the EAS is based on the so-called OAIS model. A document producer sends SIPs (Submission Information Packets) to the EAS, which checks them, segments them and/or converts the Information Packets from the SIPs, then aggregates them into APIs (Archive Information Packets) for storage. An end user can then search and retrieve DIPs (Dissemination Information Packets).
The Archiving Manager, called Management in OAIS, manages the records management policy of the third-party records management provider, such as Pro Archives Systèmes. His role is to support the implemented SAE environment politically and financially so that it can operate properly over the long and very long term.
EDM, a storage solution for everyday use
Electronic Document Management (EDM) is a storage solution. It does not retain the information provided, which could not be used as evidence since there is no guarantee of its inherent evidentiary value.
The EDM is useful for day-to-day management and enables businesses to have the right information at the right time and in the right place. It allows searches to be carried out via business metadata and offers information partitioning to filter what is displayed depending on which user is logged in. End-user rights vary from read-only with no ability to modify, to full write access which allows updates, or even additions/deletions of digital files and/or information.
An EDM solution can be connected to an electronic records management system and/or a digital safe to store or search information.
Pro Archives Systèmes comprehensive support
Digitising processes increase business efficiency in many ways, delivering productivity gains in process management, better customer service thanks to reduced response times, flexible information sharing, and more secure operations through better traceability.
"Pro Archives Systèmes offers a secure evidentiary service that enables businesses or individuals to keep documents and data to exercise their rights, if necessary," says Jean-Marc Giudicelli, Director of Digital Solutions Development at Pro Archives Systèmes. "All while meeting three essential objectives: traceability, sustainability and security."
Pro Archives Systèmes' support is based on change management, ease of deployment, compliance, and cost reduction to ensure a successful implementation of a digitisation project. The critical support work is a challenge that must be overcome. Pro Archives Systèmes insists on "the need to propose solutions that are agile, simple to implement, compliant with the GDPR and in accordance with Z42-020 and Z42-013 standards."
Pro Archives Systèmes guarantees the integrity, availability and confidentiality of its clients' documents and data. This has enabled the group to offer other services, such as electronic invoices for clients, digital payslips, online contracting, electronic registered letters, and highly secure environments for medical data storage.
If you have any questions, we are here to answer and support you: our digital solutions experts are at your disposal.